I miss my little bedroom studio and sharing the results of my audio experiments on this blog. As I get ready to return to Mexico (on Thursday, February 21st), I'm checking off things on my to-do list, including sending off a few copies of my last record to friends and supporters.
To date I think I've sold, let's see here… zero CD's or songs. That's a net profit of, let me get this straight… zero dollars and zero cents, I think. Simplifies my taxes.
The copies I'm sending out today are "Deluxe Editions," which include B-sides and bonus tracks. The two tracks posted below are new to this site and so, in keeping with tradition, I offer them up under a present-time photo: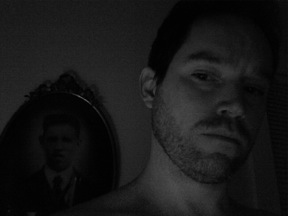 Track notes:
Fine upstanding young man.mp3
Perhaps the only real up-beat, poppy thing I've ever recorded. The music and chorus are from maestro Eric W. Back in the My Dear Ella days, this was one of the first times Eric and I semi-collaborated on a song. It only went as far as me putting down some verse ideas on a four-track tape, and then it was put on the shelf along with the six billion other undeveloped song ideas in Eric's and my respective archives. Years later I recorded this version, for the sheer fun of it. The lyrics are goofy and idiosyncratic:
I saw your sister at The Cave [a Chapel Hill rock club]
She was at the bar and had a bit too much to drink
She didn't even know my name, but she waved
I saw her later on the roof of The 506 [another local rock club which occasionally had after-hours get-togethers on the roof]
She was looking for some kicks
And even though I wanted more,
I just took her home
He's a fine upstanding young man…
I guess it's time for me to get a job
I gotta play my part in the cosmic symphony
Maybe I'll go back to grad school
Just a few more years and I'll have my PhD.
Then I can give it up from 9 to 5 until I'm rich enough
to buy a big house in the woods
Where I can sit out on the porch with my guitar
Just like I'm doing now [We (the guys in the band) were living in a great old house together, and indeed I was sitting on our porch when I wrote this verse]
He's a fine upstanding young man…
You are only anybody
You are only everybody
He's a fine upstanding young man…
****
Bonus.mp3
I love splicing together bits and pieces from my audio journal. The intro is a random moment from Mexico, as I lay in bed nursing my knee injury. Then there's a segment from an unreleased version of "Missed Connections," a song I've yet to do a proper recording of. The end is a montage of special moments from days gone by.