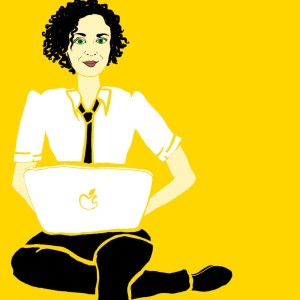 I've been feeling down and out — on the creative front — following an exhausting (but enjoyable) vacation back east to visit family. I just can't seem to get back on the horse and move forward on any of my projects (writing, podcast, music, etc.), and my bad habits and poor choices are leading me back into an amotivational abyss. Fortunately, I had the wherewithal yesterday to listen to Maria Popova (of the Brain Pickings blog) respond to listener questions on the Tim Ferriss Podcast. Here are a few gems Maria offered that lifted my spirits:
Write for yourself… Creating something that is rewarding and sustainable over the long run requires, most of all, keeping yourself excited about it… The key to being interesting is being interested, and being enthusiastic about those interests. That's contagious.
Don't think about your writing as "content." There's nothing more toxic to the creation of meaningful cultural material, whatever its medium, than the term "content." "Content" is something you produce and purvey to other people that becomes currency for advertising and whatnot, and not something that you do for yourself. Nobody does "content" for the joy of their soul. And the second you start thinking of your writing as "content," you've altered the motive. You're no longer writing for yourself.
Consistency is the key to becoming a great artist in any given field. Showing up, day in and day out, rain or shine. Whether an artist is experiencing agonizing self-doubt or the intoxicating elation of being in love, whatever it is they're feeling, they still show up. They still face the blank page, the empty canvas, the fresh roll of film, every day. And they do their thing. This doggedness is a deep love of the work, a deep need to do the work in order to feel alive. If you're looking for a formula for greatness, the closest we'll ever get, I think, is this: consistency driven by a deep love of the work.