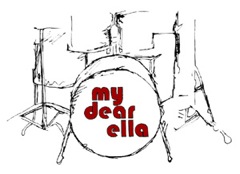 One minute I'm home winding down in my PJ's and the next I'm wearing a blond wig, standing next to Eric Wallen, and head-banging to a Black Sabbath cover band.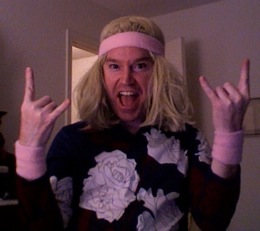 That can happen on Halloween in Carrboro, NC. Of course, Eric's hair is the real rock n' roll deal, and he's known all about town for that and for being the creative force behind the bands Death of the Sun and My Dear Ella.
For this week's Music Spotlight, we'll pay tribute to both Eric and blond hair by traveling back to yesteryear and the My Dear Ella mellow-groove masterpiece, Blonde Baby. This super-chill tune was recorded at the legendary Music House, back when MDE was a four-piece, all of us housemates. I'm playing bass on this track (although I was merely mimicking the original MDE bassist, Bill "Hussein" Dechand), along with Eric on guitars and vocals, Doug White on keys, and Jeff DeWitte on drums.
Grab the mp3 below, pop it in your iPod, and get mellow. It's free, so next time you see Wallen out on the town, buy him a shot of Jägermeister.